I've been hesitant to weigh in on this topic. However, I believe at this point, it's clear there are a significant number of COVID19 vaccine deaths & risks. It's a touchy subject, but please stay with me… I believe this is critical.
U.S. Vaccination Rate
Today in the United States 53% of the population have received at least one vaccines (pink) and 47% have received two vaccines.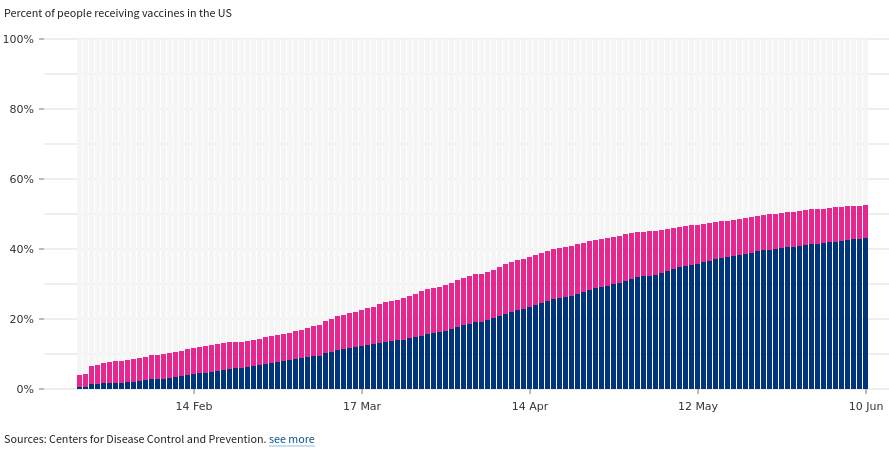 As it's clear the rate of vaccinations is slowing, but still trending upward. It's important to note that the vaccines take time to fully take effect (several weeks). However, it is also not clear how long the spike proteins stay in the body and we know the SARS-CoV-2 spike protein itself will lead to damage.
Vaccine Concentration, Reproduction & Cancer
This can be the same damage you see from COVID19; that being said, the spike proteins created from the mRNA vaccines are immediate and from multiple cells all system wide. With regard to Pfizer, we have an actual study indicating over a 48 hour period how the mRNA vaccine will effectively spread throughout the body.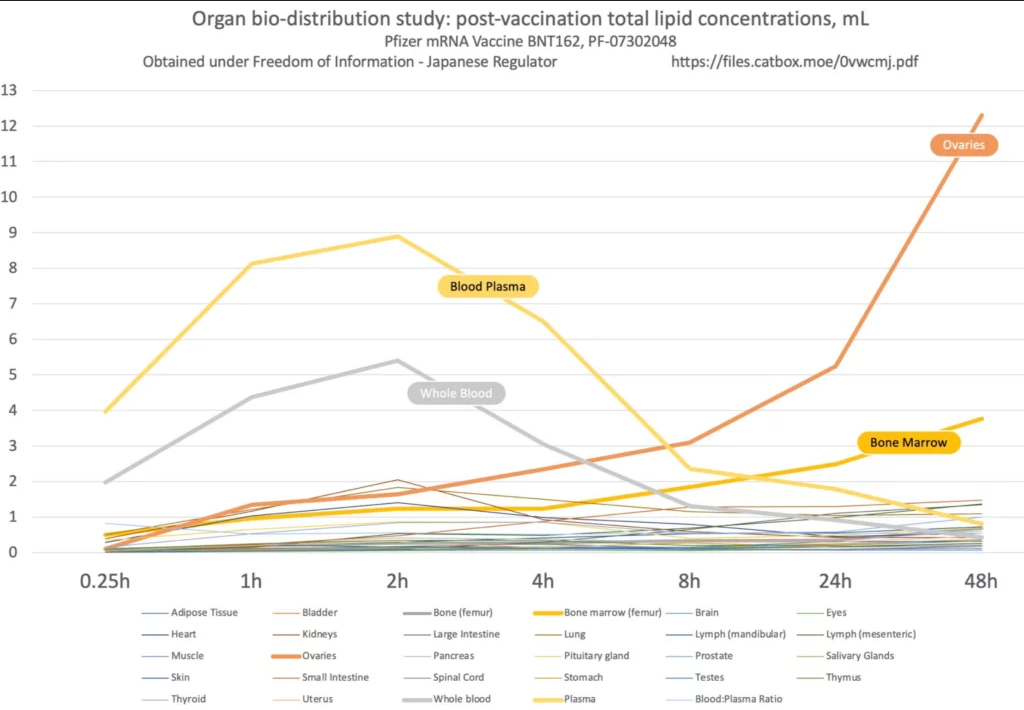 After a 48 hour period, the Pfizer mRNA vaccine will have the highest concentration in the ovaries and bone marrow (which still appears to be increasing); read Japan FOIA request document here. To add onto that, on December 1, 2020 we had two prominent scientists attempt to slow the vaccine rollout in the EU, claiming the vaccine could lead to infertility; read document petition to the European Medicines Agency.
Based on the data, there does appear to be potential risks related to autoimmune conditions and cancer (concentrations bone marrow) and infertility and genetic defects (concentrations in ovaries).
CDC Mortality by Week
The mortality rate in 2020 was fairly high above normal.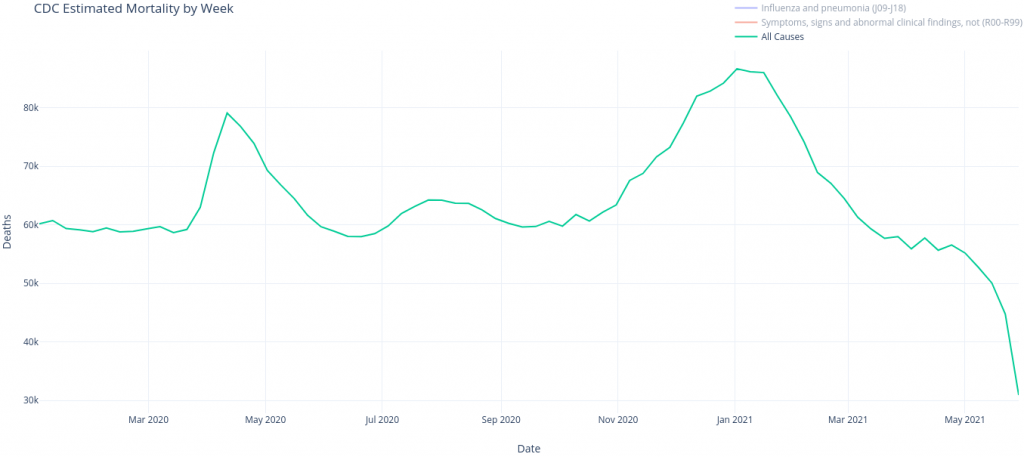 It's important to note that the most recent few weeks does not have the complete data. Likely, there will be adjustments as much as a year or so later.
(Correction June 18, 2021) IMPORTANT NOTE ABOUT THIS SECTION

See Twitter thread: https://twitter.com/piercedgeek/status/1405996230753370117

Effectively, it appears the classification Symptoms, signs and abnormal clinical and laboratory findings, not elsewhere classified (R00-R99) always increases near the most recent dates. Below is a screenshot showing based on the date collected from the CDC, the number of R00-R99 classifications appear to be updated.For a more detailed analysis see: Changes in the CDC Counts of Deaths by State and Select Causes. The magnitude of R00-R99 related deaths still appear to be increasing, at the same time the number of COVID-19 cases are decreasing. However, at this time, no clear claims can be made.

ORIGINAL ARTICLE CONTINUES BELOW
At this point, we will ignore COVID19 and multiple other forms of fatalities and focus on two in particular: Influenza and pneumonia (J09-J18) and Symptoms, signs and abnormal clinical and laboratory findings, not elsewhere classified (R00-R99).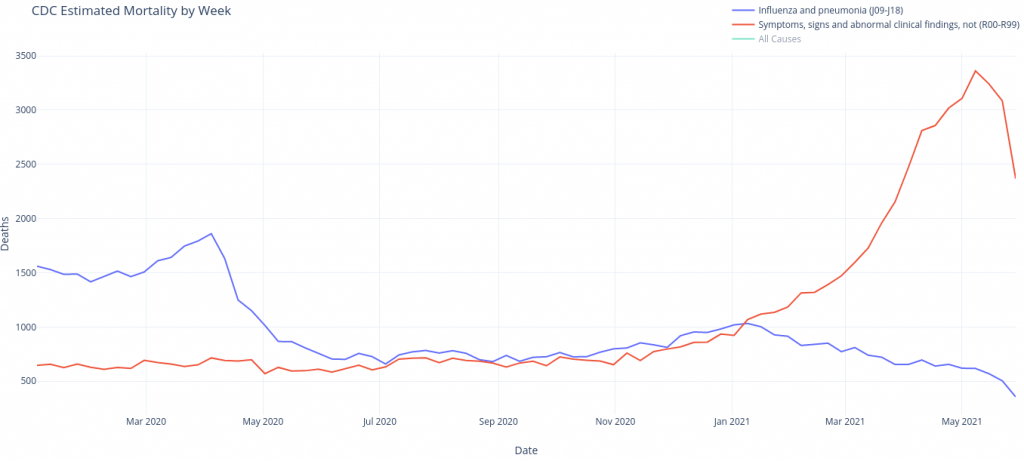 Based on the that chart, it appears since the vaccines have started to roll out there has been a significantly increase in the amount of deaths from Symptoms, signs and abnormal clinical and laboratory findings, not elsewhere classified (R00-R99).
What are R00-R99 codes? Here's the ICD10 code:
The conditions and signs or symptoms included in categories R00-R99 consist of:

(a) cases for which no more specific diagnosis can be made even after all the facts bearing on the case have been investigated;
(b) signs or symptoms existing at the time of initial encounter that proved to be transient and whose causes could not be determined;
(c) provisional diagnosis in a patient who failed to return for further investigation or care;
(d) cases referred elsewhere for investigation or treatment before the diagnosis was made;
(e) cases in which a more precise diagnosis was not available for any other reason;
(f) certain symptoms, for which supplementary information is provided, that represent important problems in medical care in their own right.
What is clear, deaths associated with R00-R94 codes are 25,800 above the norm since February.
(Addition June 16, 2021) To really make it clear how well outside of normal this is, we look at historic CDC data we can see a dramatic spike in the R00-R94 codes – from 2014 through today June 2021.

(Addition June 22, 2021) It's important to note the R00-R99 codes will adjust later, i.e. re-attributed to COVID-19 or diseases of heart deaths. I do a bit of an analysis into that topic in a follow up article, Changes in the CDC Counts of Deaths by State and Select Cause. Yes, the R00-R99 are increasing over time. This is counter intuitive as the rate should be decreasing as there are fewer cases of COVID-19. In addition, it appears there are an increasing number of R00-R99 deaths being re-attributed to diseases of heart (see follow up article). That being said, it is still early and the data is unclear until the numbers stabilize in the next 6-8 weeks (at time of writing).
Vaccine Adverse Event Reporting System (VAERS)
If we look into COVID19 Deaths in the VAERS dataset there are only 4,946 deaths associated with the COVID19 vaccines. Note, the VAERS database is known to be fairly heavily under reported (1-20% reporting rate) [2][3].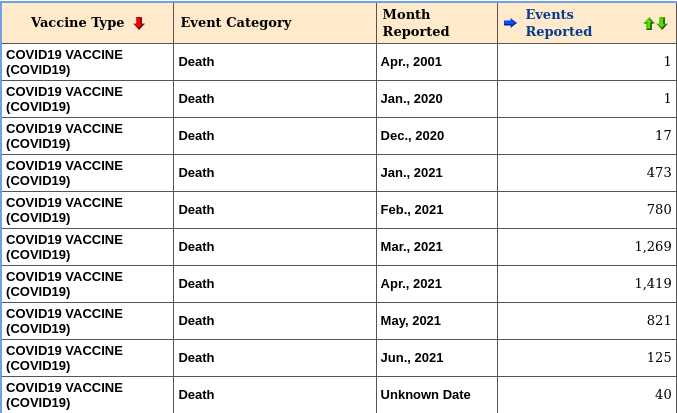 That being said, in this case it appears deaths are either under reported as expected or something has changed in the underlying CDC determination for R00-R99 codes.
Expert Discussion
If this interests you, below is a video discussing the biology and medical viewpoints summarizing some of what we know about COVID19 vaccines. One of the inventor(s) of the mRNA vaccines currently involved in several major projects related to COVID19 has a round-table style discussion.
(Addition June 19, 2021) Youtube removed the original video… Thankfully someone uploaded it to BitChute
Related Content